Sale Horses, Winter 2019
Young stock will be progressivly loaded here through winter 2019. Please note that these are not covered and grow heavy coats throughout the cold season.
Striking R 1yr Filly. She is deep chestnut with flaxen mane and tail. 1/4 Clyde, 1/4 Shire. Rest mostly TB with a dash of Arab. She will be big (16.1 hh +). In her full winter coat but will look great come summer. Price: $1700

Numbers of horses for sale as at 25 04 2015:
3yr: 4
2yr: 3
1yr: 12
Weanlings: 14
Mares with foals at foot: 6

3 yr 16.1 gelding. He will mature 16.2. Price $2500 inc GST
This horse has potential in any discipine. His walk is telling me that he has real promise in dressage. The photo was taken on 28th Nov 2014. He will be 3 in December 2014.

SOLD
Into showing? Here ya go!
1/2 TB, 1/4 Arab, 1/4 Clydesdale. Born spring 2012. current height 15.3. She will mature full hack size.
I can teach this her to run up in-hand before she leaves, for anyone interested in in-hand showing.
16.1 hh gelding, born December 2011
This is a big scopey horse that has showjumper written all over him. He is far from mature yet and will be magnificant when fully bulked up. He is a very forward athletic horse and may do well in eventing too. He will end up close to 16.3 hh.
3-month foal @ 25 01 2015. 1/4 Shire, 1/8 Clydesdale, 5/8 TB, 1/8 Arab. A big heavyweight hunter in the making. Price $1500
2 yr-olds by Friesian x Anglo Arab Mahachi Jack as at 15 01 14
Out of Rata Mill Anglo Arab x Clydesdale mares
Sale Horses
Above and below are examples of horses for sale as at 01 01 14. These horses are marketed as well handled unbrokens. They have been taught to tie, lead and have had feet handled.
2 year olds (total 13) as at 01 01 14 are all by the Friesian x Anglo Arab stallion Mahachi Jack. (see Stud Stallions page) The price is NZ$ 1875 with 1 outstanding mare and 1 colt at NZ$ 2500. These will range in mature size between 150 (14.3 hh) cm to 162 cm. (16 hh)
2013 foals (total 14) have birth dates from early October through to 29th December. All bar 4 are by Irish Sporthorse stallion Travalda Irish Cloud (see Stud Stallion page). Cloud at 4 years measures 160 cm. However, he is from big bloodlines and a number of foals are showing their size at an early age. These are genuine quality sporthorses that will grow from 160cm (15.3) to 165 cm (16.2 hh). Price is NZ$ 1975. 2 are priced at NZ$ 2500. We can carry purchased foals through to weaning (01 05 14) at no extra cost.
4 foals are by Shire x Anglo Arab sire Ohai Frost (see Stud Stallion page). I remain a lover of heavyweight horses and these are of particular pleasure to me. Frost will be retained to ensure we have a sufficient young heavyweight broodmares coming on to replace those past breeding. He is leaving superb heavy weight hunter colts. Contrary to common belief these heavy boys can still foot it with anything out there in the show jumping ring.
All these young stock are out of Rata Mill mares.
Why are there no yearlings? : because foaling was getting too late so we skipped a year to get back to genuine spring foaling (October to December)
2-yr olds born late spring 2011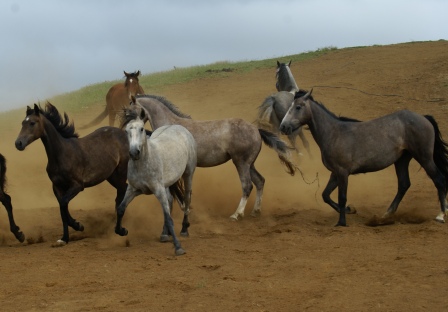 Friesian x 2 yr fillies
Friesian x 2 yr colt (sold)
Friesian x 2 yr filly
Friesian x 2 yr fillies
This colt, who has just turned 2, is the biggest in the 2-yr group. He now measures 15.1 hh and I predict that he will mature over 162 cm (16 hh). He has sound straight legs and movement, and a stable temperament. He is particularly active with free forward movement – a promising dressage or eventing prospect. He is one of 3 2-yr olds that are not out of a /1/2 clydesdale mare. His mother is a stationbred related to the outstanding NZ showjumper Hoffman. He is rather plain right now but I predict that at 5 years he will be a handsome boy. His price is NZ$ 2500. 2 more photos below.
Foals born spring 2013
Shire x colt
Irish x Colt
Irish x Filly
Shire x Colt
Irish x Filly
Irish x Colt (sold)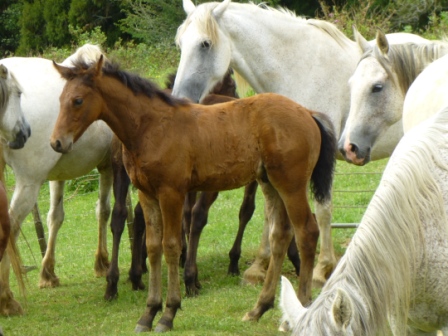 Irish x Filly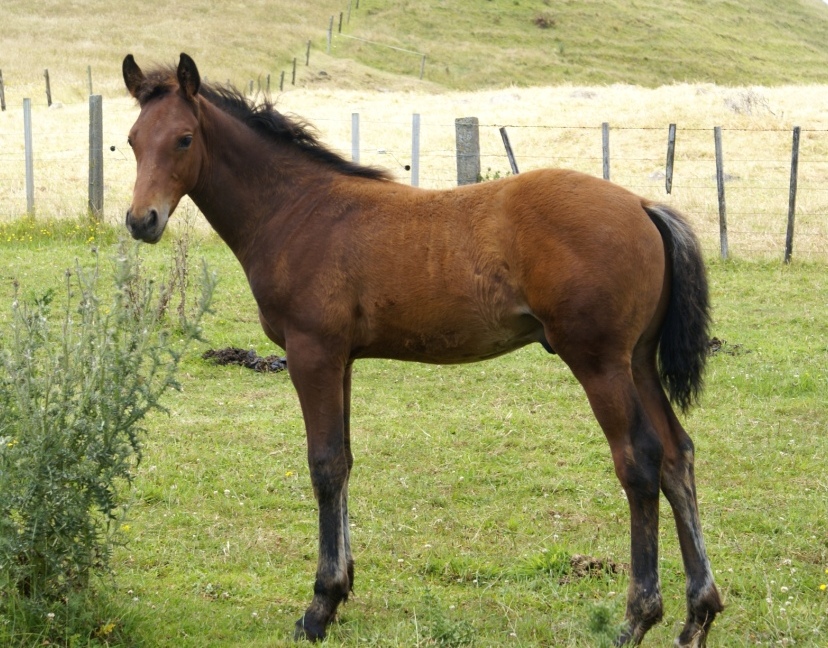 Irish x colt
To be retained for breeding at Rata Mill
Shire x Colt
Shire x Filly
Shire x Colt
Shire x Filly
Shire x Colt
Shire x Colt
Shire x Filly and colt
Shire x Colt
Note: not all foals are include in these photos. More pics of the same quality to come