Breeding Jumpers
Designer breeding of jumpers is littered with broken dreams. So often a nice successful mare is mated to a performance stallion at great cost with great expectation. Yet, after 8 years the realisation finally sinks in that the progeny is just ordinary and always will be.
Great jumpers happen. They can be from a exquisite bloodlines or just be plain mongrels. The great French horse Jappelou and Mark Todd's Double Take both had standardbred blood. The German horse, Halla, with the all-time record for the most Olympic gold medals ever won was pure standardbred. The list of outstanding thoroughbred jumpers, is long and goes on, - the greatest being Gem Twist, in my opinion.
This does not make thoroughbreds or standardbred horses great jumpers. Halla had 9 foals. None became competitive jumpers. European Warmbloods dominate international sporthorse breeding these days. But, take into account that Germany alone breeds 50,000 sporthorses per annum. NZ probably breeds less than 1000. The attrition rate in Germany through faulty feet and legs is astonishing. This problem is almost eliminated when these Warmbloods are bred and reared in NZ conditions – growing up outdoors.
In the case of Rata Mill's greatest showjumper, Brown Bess: her mother went on to produce another 6 foals by the same sire. None became successful competition showjumpers at heights over 1.2 m.
Complicating the issue further is that what makes a great showjumper, showhunter, field hunter, or eventer is slightly different in each case. At novice to medium levels these differences don't matter, but if we want a champion, we must be able to identify certain characteristics. Here, I will concentrate on showjumpers.
Breeding jumpers is quite different to buying young jumpers. In breeding we try to stack the odds as much as possible towards jumpers. In buying, to stack the odds, we need to be able to identify essential talent. Our best chance is to follow the circuits watching green horses. Great jumpers show up very early through their scope. While many owners do not know that they have a dog, many don't know they have a potential champion. Look for scope and natural parabola. , but be quick because experienced competitors have half an eye on these rings as well.
I have a story:
By the time Brown Bess turned 5 she had competed in a number of novice rounds. She was showing her promise. At that time the number of professional open class riders could be counted on 1 hand. At a show one of these came up and offered us $15,000, for export to the US. By that time a share deal had been negotiated with her rider who wanted to carry on. The offer was declined. Some weeks late another pro came up and asked if she was for sale. I replied,
'How much are you offering?'
' $3000', he said.
I saw red, I don't like rip-off merchants.
'That's dog tucker price! We have already been offered $15,000'
He shouted back,' Well you should have sold her, she is too small and is only a mare!'.
'Why do you want her, then?'
' For my children, its negotiable'
I walked away. Cheeky Prick!.
You may have to follow the circuits for several months but in the end it is worth it. Don't even consider breeding. It does not matter. Don't get carried away with someone's promotional video of freejumping. With patience, a few tricks, and lots of editing, any horse can be made to look good in video or photos.
Aside from scope and parabola, leg action over the jump is important. The horse must be able to snap up high in the front and have an avoiding action behind. Both are essential and are natural in a minority of horses. Horses that flick their tail upwards over the jump have a good hind action. Another important characteristic is being 'careful'. A careful horse always clears the jump with heaps of air.
To a point we can predict the ability to jump clean through the action in canter. Clean horses have a round action as opposed to the extreme daisy-cutter action of many thoroughbreds. These horses cannot snap up, and trail an undercarriage. They can jump OK up to about 1.2 m but after that take rails. The round actioned horse is also more manageable between the jumps and can be dynamite in speed rounds. They can still jump clean at gallop. But, they must be allowed to flow foreword. While a steamy thoroughbred can be ridden up to a big jump at low tempo it will destroy the round-actioned heavy horse.
Almost all the Rata Mill halfbreds exported to Japan were round-actioned horses. This comes from the Clydesdale blood. They made their name in novice competitions with recreational riders. Up to 1.1 m all competitions in Japan are one round against the clock. These pleasure-rider owners could point and gallop, full-tit, and still jump clean. But, it is always a case of horses for courses. These horses would not have the ground covering capacity to compete in cross-county beyond intermediate. They do make great field hunters and have the ideal tempo combined with stride length for showhunter.
Breeding jumpers is a lot more problematic. I know of an experiment in the 80's where a breeder poured over successful TB steeplechase bloodlines and built a large breeding program around these bloodlines. He had a large team competing with no apparent advantage. In the end the experiment failed. Nothing exceptional immerged.
Breeding background is important, but first comes type, temperament and movement. What flies in the face of the success of performance and breeding selection of the Europeans are the Irish. George Morris says, ' The Irish are born to the horse'. He's right. Ask a typical Irish backyard breeder why she brought a breeding mare it is likely she will say, 'She looks right'.
The Europeans spend millions of dollars performance testing before stallions become registered for breeding, yet the Irish keep pumping out horses that are commonly kicking butt in International competition. The other factor is that the Irish love the 'chasers'. They still breed big, sound, slow maturing thoroughbreds, which is now a rarity around the world. NZ's biggest weakness is in broodmare selection. Too often, cheap Thoroughbreds are mated to great imported stallions that deserve a lot better. Far too often NZ thoroughbreds throw small, and/or bad temperament. If you want to breed good horses take the time to look for big, sound, Stationbred mares. They do exist, especially in the Gisborne area. Many are sitting in paddocks and won't cost too much.
There are 2 ways to look at the horse, up close and standing back. So often I identify a pleasing horse in the yard, yet some time later seeing it moving in the paddock think, 'Oops. I got that wrong'. Likewise, a plain horse can be seen from a distance to have an x-factor when moving at trot and canter.
Straight movement is pleasing, but not essential in the show jumper. Obviously, if one is breeding we avoid it, but when buying, it's not essential. One stallion used at Rata Mill that I have not recorded is 'Consul' This horse was bred by Jim Wright, then Master of Maramarua Hunt Club. He was a big grey Stationbred out of a very good A-grade jumper. His front action was terrible. I was stuck, I needed a stallion, so bought him. Consul left only 5 foals. By New Year it became clear that he was very susceptible to ryegrass staggers. The poor guy battered himself to pieces. After he fell into a boxthorn hedge I decided that he had to leave. I could not afford to keep him on hay and hardfeed.
His horses were sweetest natured ever bred on Rata Mill. They moved like machines, rolling forward into jumps. Point and go. I loved riding them. All had crooked front actions. The most outstanding was' Sterling', the only 17 hh + horse ever bred at Rata Mill. He could happily cruise over 1.3 m at age 3, 'No problem, Boss' .
Sterling at 5 yrs HOY 2001
Rider Rosanna Miller
Attitude, parabola, scope and care: he had it all.
There was never any thought of stopping or running off in any of the Consul horses. But, man were they stiff to get collected. Both Stirling and a sister Magma beat me, they were so strong in the back. I could not find the essential flexion. Collection was not on their agenda. Both were sold to Japan, Sterling to a tiny Japanese teenage female rider. It looked ridiculous but she loved him. They were the type of horse that NZ shepherds will kill for.
Aside from legs and movement, top-line is what makes the horse. More on that later.
The bottom line is that over the last 27 years Rata Mill has used 5 stallions of different breeding. All have produced a smattering of great jumpers. All have produced a lot of reasonable jumpers. There have been very few duds. Why is this? Firstly the use of a straight-bred (Clydesdale) mares have evened things out. Secondly the environment in which they all grew up. Thirdly, as Rata Mill horses have a reputation as jumpers, jump riders bought them and trained them. I believe that many designer bred dressage horses would make splendid jumpers, and vice versa.
Do you have the eye of a true horseman?
Who would pick this guy as a great jumper? Not many, including myself. How he handled that big gawky body was enlightening.
Sterling @ 4 yrs
A lovely big 'Dirr...' "What do you want me to jump Boss?"
Another memorable mare by Consul was Magma. As honest and as the hills she grew up on she was exactly my sort of horse: a fine example of the NZ Stationbred and the perfect shepherd's hack . Had we kept her longer feel she could have got up to open ring heights. But, being so steady and solid I really struggled to get collection. Very solid temperament horses see no reason to flex in the mouth and engage. If I had her now, I think I would succeed. She went to Japan where nothing much came of her. She was just too strong through the body for the Japanese. It resulted in a 'hard mouth' which is of course not the mouth, but the entire body and temperament. But, she did not pull, just rolled on in a beautiful tempo, show hunter style. My Granny could have jumped her.
But, sooner or later you we have to shorten up horses like Sterling and Magma or they will take rails over 1.4 m in height. There was no way that the Japanese could shorten up Magma.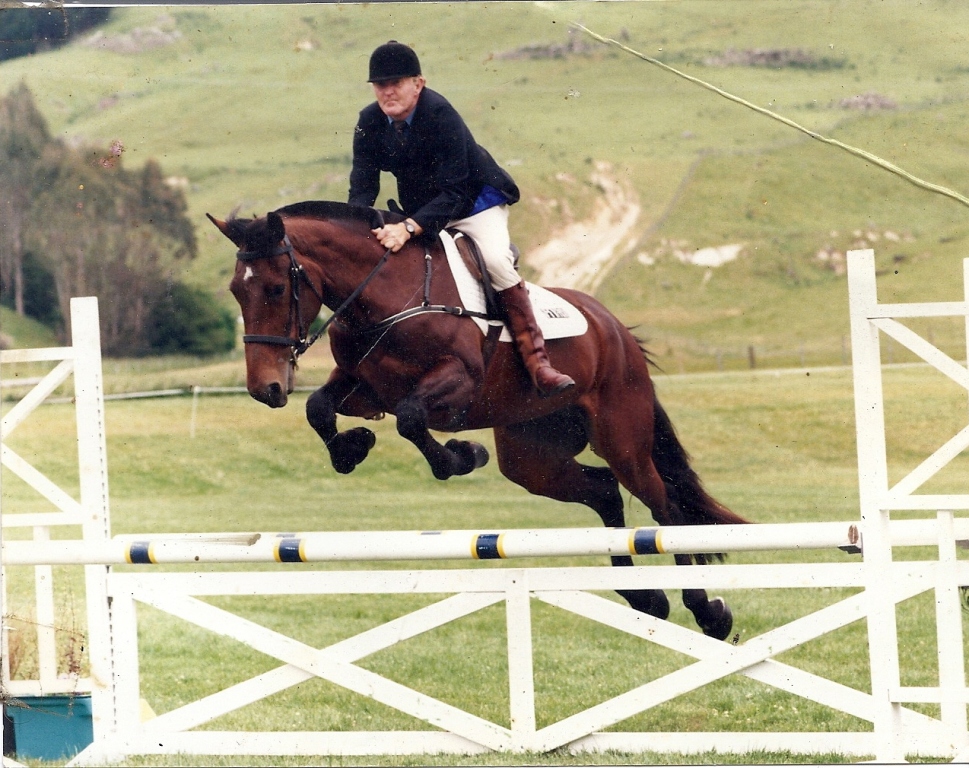 Magma
'Point and go'
At this point I was riding with a broken stirrup leather
Lastly, what we cannot breed with any certainty is attitude. Great horses have a great horse attitude. Many with great ability are just too ho-hum about jumping clean. Yes people do try things like rapping, but this never works for long.
Rata Mill Linnet
A lovable horse to whom rolling one or two rails each round was all in a day's work
Clearly, she has gone in too deep here. She never had the raw courage of Bess
And Man, is she loved!
Another horse who demonstrated instant talent was Biscotti. Shige Nishizuka rang me and asked which of the 4yr olds that year showed the most promise. I instantly said Biscotti. We had taken him to one show, but this was enough. He had huge scope. From the photo below we can see that he was most certainly not a show ring horse: a little long and hollow. But he had the goodies. The most prestigious competition in Japan is the "Japan Sports Festival' where Cantons compete as teams against each other. Government not only subsidise all costs but also assist Cantons to buy and keep team horses. These must be ride-able by any team member. Biscotti is now such a horse with a strong reputation. Needless to say he lives in the lap of luxury, no cost spared.
Biscotti @ 4 yrs
1/2 Clydesdale, 1/4 Arab, 1/4 Tb
Biscotti in training 2000
Rider: Daniel McAlpine
(she always had the Stockmans's seat :-)
Now: THAT'S carefull!
Bess at her first outing @ 4yrs
Excuse my strange seat, I was gun shy over her explosive take-off which often left me out the back door, and, not knowing on which stride she would let rip.
BUT
So was Rebecca gunshy,
(apparently)
in the early stages :-)
Lastly, great jumpers need great trainers and riders.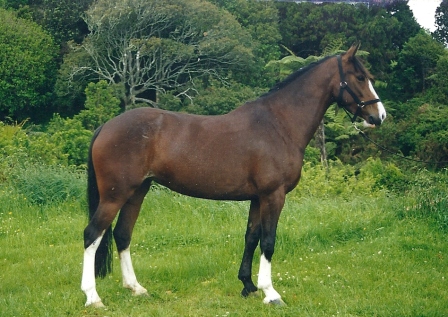 Rata Mill Aaron,
The horse that never got a chance.
Occasionally we get a horse who is near-to-damn-it perfect in conformation. This is one: Rata Mill Aaron, full brother to Brown Bess. I had high hopes for this horse but he has a string of unfortunate clashes with new owners. First he went to one of NZ's leading dressage riders. He had a flighty streak which unnerved this rider, so I took him back. When I rode him I immediately felt that his training, while he had been away, was completely wrong for this type of horse. He had been forced into a frame and was totally confused. I had to hack him for a week or more to get him to stretch out again. Then he was sold to a young Japanese rider, resident in NZ for 1 year. He had won the Japanese young rider of the year and would take advice from no one. Every few days, or once a week, Aaron would be saddled up jumped repetitively over heights of 1.3 – 1.4 m then put away. He was then sold on as being 'no good'. Luckily, a NZ hunting family bought him and he was to enjoy the rest of his career. I reckon that for every successful competition horse out there, there are 6 that are just as good, but never get the chance.