Before and after
This a fun page for people who are interested in the conformation of the horse. I very rarely agree to inspections or provide photographs of individual horses between the months of May and December, the reason being that only people with an eye for the horse can see the true potential of horses in the rough. Within the above months Rata Mill horses look like coarse bog trotters. The strong bone combined with winter coats and mud are difficult to see past. The problem is that buyers will insist that they can see past the conditions but, (I fear) go home thinking 'gee I don't think much of those'.
In the old days horse dealing was an important profession. Buyers who could buy horses in the rough knowing what they would turn into did very well.
In the News for June 14, I posted this photo along with the comment: "The only rising 2yr on the property. Another horse with a lot of potential. Yes, believe me - she will be showring quality" Here she is now - 5 months later:
Boy, just look at me now!
No trimming or grooming occured between these 2 photos. No boxing, hardfeed or covers. Quality pasture with a bit of meadow hay in the midst of winter is all they need.
June 2014
Jan 2015 (Same horse)
Below is a horse I recommended to a buyer who enquired about a second Rata Mill horse after 25 years. This filly was bought sight unseen on the basis of this first photo. I advertised her on trademe using the first photo taken last July. There was little interest. I was confident she would turn into something special. The time period between photos is just 6 months.
The third photo below is of a 2yr old that I took on 01 01 14. I am predicting that he will turn into a big handsome boy - 2 years down the track.
More graphic examples will be posted in the future.
Before (01 07 13)
After (04 01 14)
2 yr colt (01 01 14) Would you buy him?
Same horse on 15 01 2015 (on year later) He is still nowhere near his full potential
Would you buy this horse?
Farm hack or sporthorse?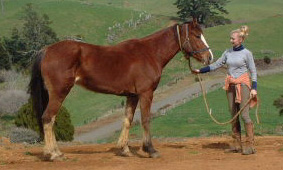 Here she is 6 months later
Rata Mill Triumph
Champion NZ secondary school team eventer 2011
06 03 2014
I have just spent 10 days handling 14 foals. One gets a real chance to study them. Which is my pick?
This guy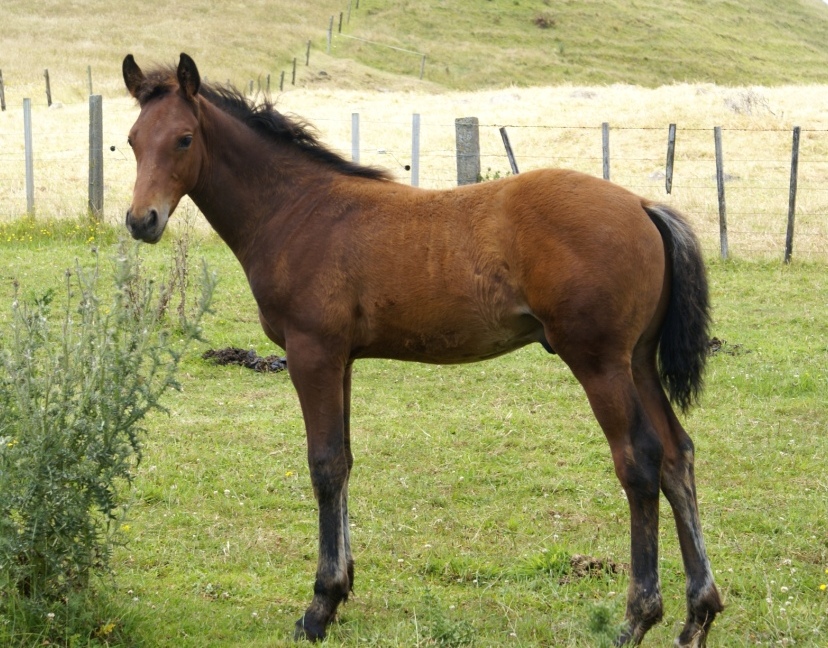 While having a a third stallion on the farm is really problimatic, I dont think I can bring myself to geld him in 2 months time. He is just too good as a potential stud sire. This combination of strong body with refined bone and features is rare. An excellent temperement too. I need this lighter bone type and refined head, as with the new breeding policy there is a risk of getting too heavy. When we were using Anglo Arab sires there was no problem. But, After all these years, even I can get it wrong. Lets wait for the after - which may be in 3 years time. It takes this long to know for sure. This horse will be plain ordinary at 2 yrs.
The Terrible Twos
Gelding at 2 yrs and 2 months of age
Boof-headed, hollow neck, sickle-hocked - YUK! This photo was taken 2 months back.
He has put on a growth spurt and now looks even worse.
Just wait. Horses look their worst throughout their second year. This horse has the makings of a good one. Why, what do I see?
Firstly: the body. It is well balanced and rounded. He is short-coupled, yet has good rein length. The hollow neck profile is very normal at this age in a horse that has enough scope to grow to a decent size. Horses at this age are 'overbuilt' ie higher in the rump than the whither. The neck is hollow to compensate. As the for-quarter grows he will start to build up in front of the whither. He looks heavy in the neck in the second photo, yet in the first photo, not so. One buyer looked at the 2 yr olds and said that he did not like the sickle-hocked look. He like 'horses with their hind legs right under them'. He was being fooled by the immaturity. I was in no mood to argue. Once his hind quarters fully mature, he will have his legs under him
.
What else is good? - Legs and pasterns. Avoid like the plague straight-angled pasterns. He has good medium bone. He does have a slight dish in one leg at trot. He is now arounnd 15.2 at the whither, which is not a good indicator. We need to make the measurements at the rump at this age. There he is 15.3. The depth of body-to-leg-length ratio at the shoulder tells me that he will grow to 16 hh - 16.1 hh. From here on in almost all the height will come from the body, not the legs.
Look Inside the Box!
Same Horse
What I have done here is rotate the photo by 2 degrees to balance the height of his whither with his hindquarters. I have cut off the neck and head. We should disregard these at this age.
What do we have left? : the makings of a very good horse.
Edit 18 months later
On April 30 2015 I recieved this photo of the above horse @age 3 1/2. It is very gratifying. He IS going to make a very nice horse - as predicted

He is in work here and will bulk up a lot being 1/4 Friesian, 1/4 Clydesdale. 1/8 Arab, 3/8 TB
I'll be suprised if he doesn't make a genuine 16.1hh
This
Turned into
This
What will this turn into?
Look inside the box!